Episode 1 of our new 'gigs from the home office' project:
Well it's taken a week or so for us to decide what to do about this lockdown situation. Obviously gigs went from 'lots' to 'zero' almost overnight, but like all musicians, we're feeling the need to stay in contact with our audience (that's you of course), so here's Episode One of 'Live at The Londons'. We tried to go the full 40-odd minutes without a blunder but just couldn't do it (out of practice?) so there are a couple of edit points where we had to start again, but we had a lot of fun doing it and we hope you will enjoy it as much as we did. We'll do another one in a few days, and if you send us some requests we'll try to insert them into it. And we promise not to repeat anything for at least six episodes. There's a bold commitment. And we even have a couple of new original songs bubbling away which we'll have a lash at shortly, perhaps in the next episode.
We're making the shows free to anyone, but we'd be delighted if you felt moved to pay a door charge – it's normally $10 or $20 at our gigs but you can pay less or more or nothing at all. To do this you can go either to PayPal and send to andrewlondon11@gmail.com; or email me directly for an alternative.
You could also help the cause significantly by downloading music. All our albums, and even individual songs, are available for download at www.bandcamp.com. We don't do the Spotify-style streaming thing because the return to the artist on those platforms is close to zero.
If you'd like to send me a verse or two (or 27 if you're Bob Dylan) to add to the Lockdown Isolation Blues, here are the first couple of verses as a template – submissions eagerly awaited.
I got those Lockdown Isolation, lockdown isolation blues
I got those Lockdown Isolation, lockdown isolation blues
I don't wanna read the paper, can't stand to hear the news.
Well I had enough of Netflix, and I had enough Youtube
Found some oil in the garage, thought I'd give my car a lube
Finished all my jigsaw puzzles, and I wore out my Rubik's cube
I got those Lockdown Isolation, lockdown isolation blues
I got those Lockdown Isolation, lockdown isolation blues
Just checked my Youtube channel, but I only got three views
Go For it!  And send us some requests for Episode 2!
Best wishes, A & K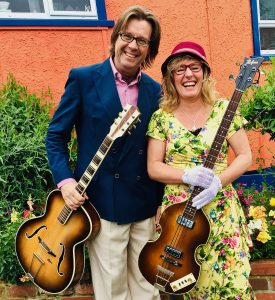 More about Andrew London: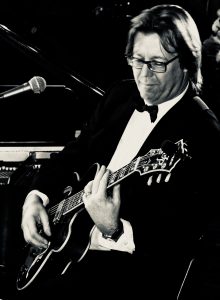 I'm a musician based on the Kapiti Coast near Wellington, New Zealand. I'm primarily a songwriter and satirist and perform most often solo or duo (with Kirsten London on bass), or with my own Andrew London Trio. My songs explore social and political themes and although humour and satire is very much to the fore, poignancy and pathos are often not far away. 
I'm also involved in other collaborations (see Projects page). 
I play at festivals, functions and venues all over New Zealand, but also make the occasional trip to Australia & Norfolk Island and have even played in Saudi Arabia.
I've released over a dozen albums of (mostly) my own original material; some with a trio called Hot Club Sandwich, some with a country band called The Cattlestops, and some as the Andrew London Trio. Physical CDs of the most recent can be purchased on this site, or digital versions downloaded from Bandcamp.com.
All my public appearances are listed on the Gigs page. You can subscribe to my monthly newsletter over there on the right, and read previous newsletters below. You can check out my Facebook Page and Youtube Channel if you wish. Hope to see you out there!