At Lockdown level 2, we have allowed ourselves a treat…
Here is Live at The Londons Episode 6!
At great expense (he had to walk about 200 mtrs) we have procured for your listening pleasure, the services of the ebullient and effervescent Wayne Mason, who joins us at the keyboard as we render such favourites as Stingray, I Wish I Could Shimmy Like My Sister Kate, the Lockdown Isolation Blues, Why Dontcha Do Right, I Ain't Gonna Give Nobody None of My Jelly Roll, I Think I'll Buy a Yacht and Play My Way Home. Oh and you'll notice the new location – we hired a van and moved to the next room.
For those of you who are new to the series; here are links to previous episodes:
Live at The Londons Episode 1!
Live at The Londons Episode 2!
Live at The Londons Episode 3!
Live at The Londons Episode 4!
Live at The Londons Episode 5!
These shows are all 'free to air', but we're always immensely grateful for donations to our VTJ (Virtual Tip Jar). Entry is normally around $20-25 at our gigs, but you can pay less or more or nothing at all. To do this you can go either to PayPal and send to andrewlondon11@gmail.com; or email me directly for a bank account number.
Thanks for your on-going efforts at the Lockdown Isolation Blues – here's Episode 6's version, with contributors:
Susanna Kent:
I got those lockdown isolation, lockdown isolation blues
I got those lockdown isolation, lockdown isolation blues
I'm an essential worker, looking for covid and the flus
And so I move and do the covid dance – in the carpark with nurse Rose
The car window is wound right down- to about as far as it can goes
And then I gently poke the swab into- the oropharynx and the nose
Ray Reynolds
We've run out of jigsaw puzzles, And we're glaring over cards,
We've run out of jigsaw puzzles, And we're glaring over cards,
stopped saying pleases and thank you's, and yep,  bedtime's getting hard.
Carol Hay
I thought I'd lose some kilos and get myself quite fit,
So I rummaged in the attic and found my old gym kit.
It's strange how tight it feels now, I guess it must have shrunk a bit.
Avon Hanson-Beadle
Well I spend time painting fences, That's how I keep myself amused
I'll paint anything not moving, just to keep me in the groove
Got them lockdown Isolation – Lockdown Isolation Blues
We're thinking we might shelve 'Lockdown Isolation Blues' for a while – what do you think? Our new segment is the 'Live at The Londons Limerick', where we give you a first line and you finish it off: here's the first one, courtesy of Susan Robertson:
The problem with self-isolation
Is, it can lead to sexual predation:
Prince Andrew sneaked out,
To put himself about..
And earned the scorn of the nation
So send us your own limerick with the first line "The trouble with self-isolation'! and I'll read the best one out in Episode #7.
and keep the  jokes coming for me to run by Judge Kirsten, we got a couple of 8s this time!
Best wishes, A & K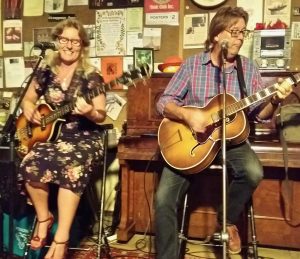 Wayne Mason
More about Andrew London:
I'm a musician based on the Kapiti Coast near Wellington, New Zealand. I'm primarily a songwriter and satirist and perform most often solo or duo (with Kirsten London on bass), or with my own Andrew London Trio. My songs explore social and political themes and although humour and satire is very much to the fore, poignancy and pathos are often not far away. 
I'm also involved in other collaborations (see Projects page). 
I play at festivals, functions and venues all over New Zealand, but also make the occasional trip to Australia & Norfolk Island and have even played in Saudi Arabia.
I've released over a dozen albums of (mostly) my own original material; some with a trio called Hot Club Sandwich, some with a country band called The Cattlestops, and some as the Andrew London Trio. Physical CDs of the most recent can be purchased on this site, or digital versions downloaded from Bandcamp.com.
All my public appearances are listed on the Gigs page. You can subscribe to my monthly newsletter over there on the right, and read previous newsletters below. You can check out my Facebook Page and Youtube Channel if you wish. Hope to see you out there!