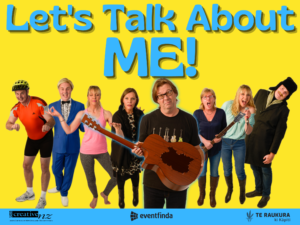 Let's Talk About Me! – POSTPONED AGAIN! – UNTIL 15-17 September 2022!
We're proud to announce that tickets for our new stage musical 'Let's Talk About Me' have hit the streets – you can book at Eventfinda or:
Phone sales:
0800 BUY TIX (289 849) – 9:00am – 5:30pm weekdays
and even at Eventfinda Counters:
Coastlands Shopping Mall
Southward Car Museum
Wellington i-Site Visitor Information Centre
Rough Peel Music – Cuba St
And if you're from out of town, there are Eventfinda counters all around the country.
Playwright April Phillips has written a script incorporating 26 of my most-requested songs from the last 20 years, and with the help of some talented actors (April, Jeremy Nelson, Tracey Savage) and a star-studded band (Nick Granville guitar & MD, Kirsten London bass, Greg Crayford drums and Michael Crawford sax & keys) the show will go on under Fingal Pollock's direction 15-17 September 2022. See you there!
More about Andrew London:
I'm a musician based on the Kapiti Coast near Wellington, New Zealand. I'm primarily a songwriter and satirist and perform most often solo or duo (with Kirsten London on bass), or with my own Andrew London Trio. My songs explore social and political themes and although humour and satire is very much to the fore, poignancy and pathos are often not far away. 
I'm also involved in other collaborations (see Projects page). 
I play at festivals, functions and venues all over New Zealand, but also make the occasional trip to Australia & Norfolk Island and have even played in Saudi Arabia.
I've released over a dozen albums of (mostly) my own original material; some with a trio called Hot Club Sandwich, some with a country band called The Cattlestops, and some as the Andrew London Trio. Physical CDs of the most recent can be purchased on this site, or digital versions downloaded from Bandcamp.com.
All my public appearances are listed on the Gigs page. You can subscribe to my monthly newsletter over there on the right, and read previous newsletters below. You can check out my Facebook Page and Youtube Channel if you wish. Hope to see you out there!