I'm a musician based on the Kapiti Coast near Wellington, New Zealand. I'm primarily a songwriter and satirist and perform most often with my own Andrew London Trio, but occasionally in other collaborations (see Projects page). My songs explore social and political themes and although humour is very much to the fore, poignancy and pathos are often not far away.
I play at festivals, functions and venues all over New Zealand, but have made the occasional trip to Australia, Norfolk Island and even Saudi Arabia.
I've released over a dozen albums of (mostly) my own original material; some with a trio called Hot Club Sandwich, some with a country band called The Cattlestops, and some as the Andrew London Trio. Physical CDs of the most recent can be purchased on this site, or digital versions downloaded from Bandcamp.com. I have recently withdrawn all my recorded material from streaming services such as iTunes and Spotify.
All my public appearances are listed on the Gigs page. You can subscribe to my monthly newsletter over there on the right, and read previous newsletters below. I've recently added a blog page to this site,  to rant about this and that as we grumpy middle-aged men like to do.  You can check out my Facebook Page and Youtube Channel if you wish.
HOLD THE PRESS!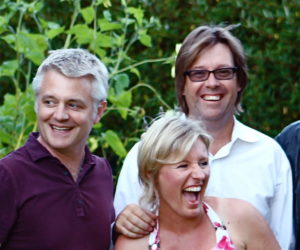 New album almost ready! We've finally decided to commit some of our favourite jazz and swing standards to (metaphorical) vinyl after years of requests. 'Standard Deviations' will be launched on 27th October at the Kapiti Playhouse, and 28th at Thunderbird Cafe in Wellington. More news later but tracks include favourites such as 'It's a Good Day', 'Bad Habits', 'While We Danced at The Mardi Gras', 'Why Don't You Do Right?', 'I Wish I Could Shimmy Like My Sister Kate', 'Don't Fence Me In' and 'Beyond The Sea'. While mainly a trio project, we elicited the help of Lance Philip (drums) and Wayne Mason (Piano) on a few select tracks. The whole thing was recorded at Ross McDerrmott's Audiosuite studio at Lindale on the Kapiti Coast. More later!