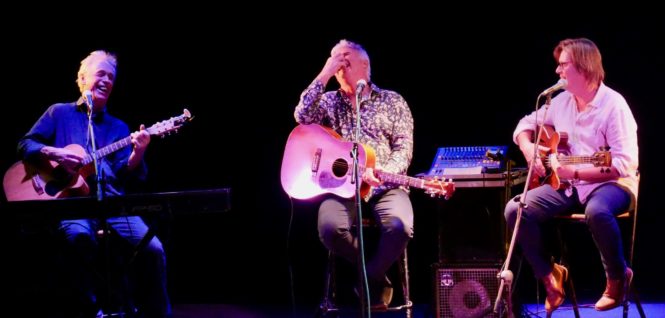 Too Many Chiefs are three of New Zealand's busiest singer/songwriters: Rob Joass, Andrew London and Wayne Mason. All work regularly with their own respective bands and lineups but come together several times a year to collaborate, sharing songs and stories from the road with audiences around the country. Their individual influences and performing styles range from blues and jazz to Americana-infused country and folk, often with an element of social commentary, personal reflection and occasional satire.
A founder member of Hot Club Sandwich and The Cattlestops, and now playing and recording mostly under his own name, Andrew London's reputation stands mostly on his satirical and comedic songs which lampoon many of New Zealand society's obsessions, foibles and taboos. Songs like Let's Talk About Me, Country's Buggered and I Hugged My Mate have had audiences all over Australasia in stitches, and have contributed to a Correspondence School English Syllabus, several feature films, and over 20 recorded albums.
Rob Joass is well known throughout New Zealand through his work with Hobnail, The Shot Band, and The Hard Core Troubadours.  He writes compulsively, tours incessantly, teaches guitar and produces albums for other artists. His songs have been covered by artists both in NZ and abroad, and he is a three-time finalist at the NZ Music Awards. Hobnail are zeroing in on 30 years as a touring and recording entity, and Rob has increasingly focused on solo work when not traveling with Hobnail or The Chiefs.
Patriarch of the group Wayne Mason has been instrumental (ha) in the formation and success of some of the most revered names in Kiwi music history. Rocking Horse, the Fourmyula and the Warratahs all owe their inception to Mason, who shows no signs of slowing the pace, or lowering the standard he set back in 1969 when he penned the song 'Nature', named by APRA in 2004 as 'Best Kiwi Song of the Century'. That same year the Fourmyula were recording at Abbey Road studios in London and had morning tea with the Fab Four while they were recording 'Oh Darling!'. Wayne is a member of the NZ Order of Merit.
The trio began as a quartet with fellow Wellingtonian Laura Collins, whose departure has left a vacant seat occasionally occupied by 'guest chiefs' including Charlotte Yates and Lorina Harding. The collective repertoire represents a broad spectrum of songwriting styles, delivered with skill, enthusiasm and respect, albeit with a healthy dose of spontaneous banter and self-deprecating humour. 
'Mates on the road rolling out top quality songwriting and musicianship with lashings of irony and humour' – East Auckland Times May 2014. 
'I dragged Hubby along hoping that he, at least, would get something out of the music but a little worried…it's the most I've seen him laugh forever!' – audience member Thames 2023
Visit the Too Many Chiefs Facebook Page.